Adaptive Clinical Systems™ is an eClinical Technology Solutions provider and "Problem-Solver" providing EDC to CTMS integration and data flow improvements in your clinical trials.
---

Through our innovative Adaptive eClinical Bus® solution, our focus is on helping improve clinical trial operations through interoperability. The Adaptive eClinical Bus® gives our clients the freedom to choose the best eClinical tools of any third-party or proprietary systems while enjoying the benefits of a fully integrated system.
Freedom to Choose the Best Clinical Trial Tools
The Adaptive eClinical Bus includes "connectors" for leading clinical trial software from well-known vendors such as BioClinica, Medidata, and Clinical Conductor; open source clinical trial tools such as OpenClinica and Clinovo; and popular EMR/EHR tools from EPIC, PointClickCare, and others.
Leverage Your Proprietary Systems
Leverage your proven, internally-developed and proprietary systems and retain your competitive edge.  Adaptive Clinical's eClinical Bus can easily integrate your technology into an interoperable, efficient, and accurate clinical trials system that streamlines your processes and improves data reliability.
Use Adaptive Clinical's Tools
Don't have tools or don't want to go to the expense of acquiring them? Adaptive Clinical includes class-leading open source tools that will provide you with all of the functionality you need to easily and quickly get started.   Use all of Adaptive Clinical's tools, or replace some or all of them with your own.
Integrate Clinical Management and Analysis Tools
Analysis tools such as Spotfire and Qlik, statistical tools such as SAS and SPSS, and clinical trial management tools (CTMS) such as Clinical Conductor and IMPACT are all easily connected to the Adaptive eClinical Bus for improved clinical data integration.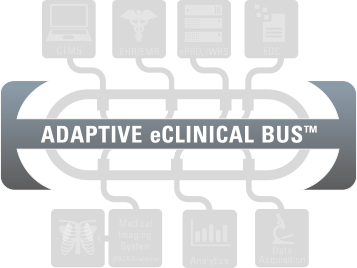 Adaptive Rules Engine – Not Just Edit Checks
Apply your clinical "know-how" to build clinical intelligence into your system and minimize the risks of human error that come with re-entering data from multiple sources. You can further customize rules by building clinical derivations and data thresholds, making efficient use of subject matter experts on your staff.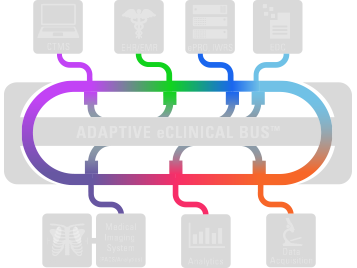 Connectors to Integrate Your Tools
Integrate proprietary and commercial off-the-shelf (COTS) tools and leverage your existing in-house investments, enabling you the freedom to choose the best tools for your study without the need for complex and expensive integration projects. The Adaptive eClinical Bus easily integrates all leading EDC (eg, Medidata, BioClinica, OpenClinica, etc.), CTMS (eg, IMPACT, BioOptronics, etc.), and Medical Imaging and Analysis tools (eg, Siemens, MintLesion, etc.).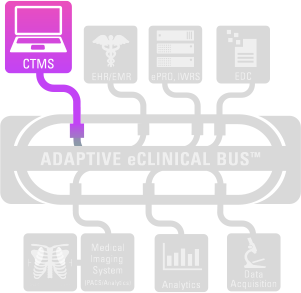 Simplified Workflow
Easily track and maintain events and visits in complex studies
Single-source subject information avoids data duplication
View study progress in one integrated dashboard
Tightly integrate patient and investigator reimbursements with eCRF creations in your EDC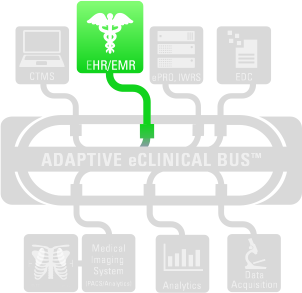 Rapid Study Startup
Quickly identify subjects that meet study inclusion/exclusion criteria
Directly import demographic information
Easily map routine visit data into eCRF's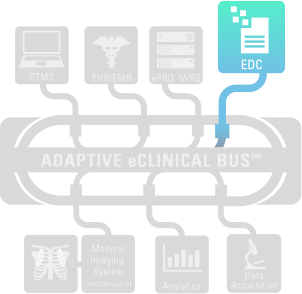 Reduce Data Management Overhead
Maintain 21 CFR Part 11 Compliance across all interconnected modules
Eliminate the need for source data verification
Streamline risk-based Monitoring and eliminate unnecessary site visits
Achieve clinical data integration without the need to reenter information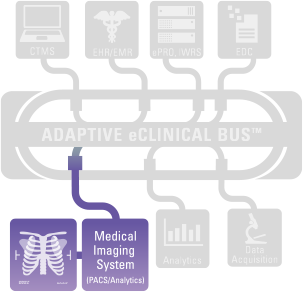 Imaging Integration
Single source of imaging data
Native support for both DICOM and proprietary imaging standards
Support for Criteria ranging from RECIST through mWHO and Cheson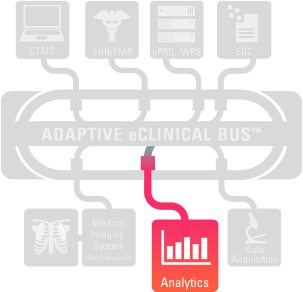 Leverage Real-time Analytics
Adaptive eClinical Bus enables continuous updates for analytics tools
Up-to-the-minute views of study data
Easily set up a live link to your sponsor for study data transmissions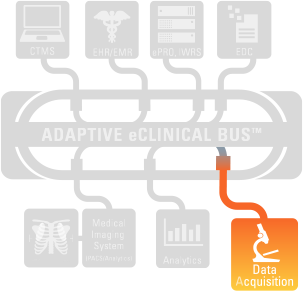 Direct Data Capture
Direct integration with medical device data collectors
Capture device calibration information in eCRF's at the time of evaluation
Seamlessly integrate with lab instruments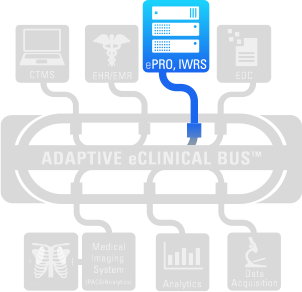 Seamless Web & Voice Interface
Reduce transcription errors and avoid complicated data imports/exports
Easily relay randomization information from IVR/IWRS to EDC/CTMS
Aggregate ePRO reports as single eCRF in EDC
Medical Coding Module
Support for mass coding facility of CRF data
Smart coding suggests the most appropriate codes from a terminology base
Terminology Browser displays terms in a hierarchical view with options to browse, view term details, and select term codes
Powerful search with fuzzy matching capabilities and intuitive, quick queries
Coding supports any version of MedDRA terminology in any officially supported language
Which eClinical Trial systems do you use?
Discover all the Partners that the eClinical Bus® Integrates with!
Enhances uniformity and accuracy of data capture by standardizing medical terminology (eg, MedDRA, IDC-10, etc.).
Mass coding for CRF data, using a single screen to display CRF data that are not coded, and are available. The system will propose the most appropriate codes from a terminology base. Coding can be done for multiple data items in one session.
The Terminology Browser displays terms in a hierarchical view with options to browse, view term details, select term codes, and use powerful search with fuzzy matching capabilities and intuitive quick queries. Can verify coded data to confirm and accept codes prior to export of verbatim and coded data. Coding may be performed using any version of MedDRA terminology in any officially supported language, with possibilities to use different versions per study or switch during implementation. MedDRA versions imported from officially released ASCII files with as little as two clicks.